Favorites
As you use Pyrus, you'll find there are pages you visit regularly. If you check the service ticket dashboard on a daily basis or fill out an AP invoice form a few times a week, you'll want easy access to these pages. Fortunately you can access these pages and more with a single click from Pyrus's main menu — just add them to your favorites.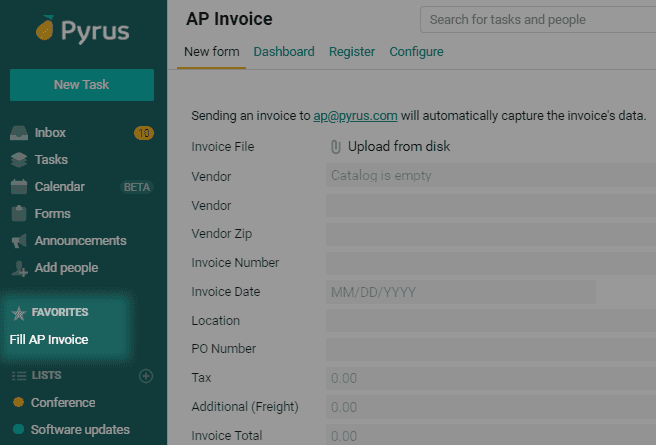 Adding a page to favorites
To add a shortcut to the main menu, click on the star in the upper right corner of the page you want easy access to.
A Favorites section will be created in the main menu. All shortcuts to your starred pages will appear here.
What you can add to favorites
Everything form-related, like the form itself, its configuration page, dashboard, and register.
A specific dashboard view. For example, you can regularly monitor statistics for a specific vendor, like whether their invoices are paid on time or how much you paid them over the past month. Select the vendor in the filter of your AP Invoice dashboard and add the result to your favorites. You'll always have the numbers you need on hand, even if someone changes the filter.
Tasks. This may come in handy if there's a task you keep coming back to or if a task contains some links you use often.
Kanban boards. It's quite handy when your "To do's" are just one click away.
Search results. Let's say you've hired a new employee and you want to keep track of his or her first work assignments. You can do this by creating a shortcut to this person's tasks. Type the employee's name in the search bar and click the star on the search results page. Your list of favorites will now feature a shortcut to all of this employee's tasks, and new tasks will appear here automatically.
Editing and deleting favorites
To edit your list of favorites, click on the settings icon.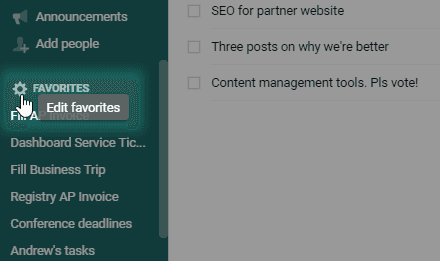 You can modify the names of the list items, delete them, or change their order by dragging and dropping.