Billing and Payments
Can I use Pyrus for free?
Yes! The Free account is perfect for getting to know Pyrus. It kicks in automatically when you sign up. You can add any number of users, create an unlimited number of regular tasks, and up to 50 form tasks. You also get 1 GB of file storage. the best plan for your needs.
What is the difference between the Premium and Enterprise rate plans?
Premium is good for business leaders ready to power their companies with Pyrus. It costs $6.20 per user per month, and it includes unlimited tasks, 10 GB of space per user, branding with your company logo, secure API access, downloadable data backup, catalog sync with an external data source, highly reliable data storage, and priority customer support.
Enterprise is a rate plan for corporations looking for automate their business processes. In addition to the Premium options, it includes unlimited storage space as well as integration with Active Directory, ERP, CRM, and accounting software. You will have mobility management support, personal maintenance services for your processes, and a dedicated manager.
You can switch to the Premium rate online in the Billing section on the right side of your screen.
If you opt for the Enterprise rate, fill out the feedback form or write to us at sales@pyrus.com.
How can I add money to my account?
You can pay for Pyrus online with a bank card. To add money to your account, select Billing in the dropdown menu on the right. Click Add Funds.

Indicate your company's number of employees on Pyrus in the form that opens, select the payment period, and confirm the amount.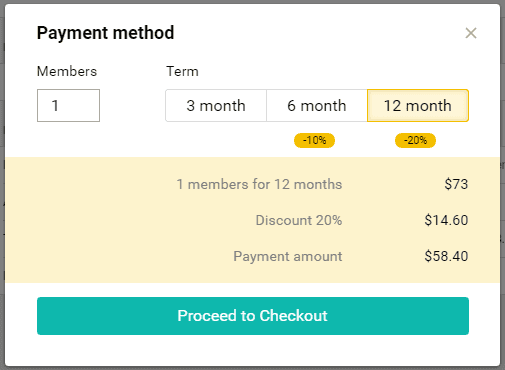 When you make your first payment, enter your card details and enable automatic payments for uninterrupted service operation.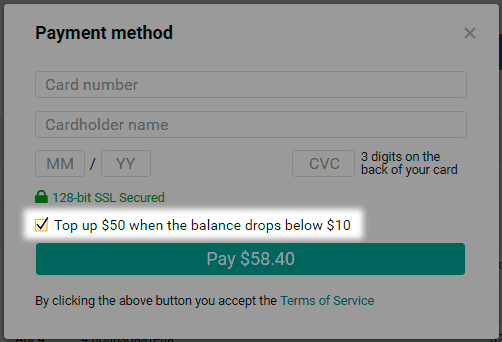 You will see the payment received on the Billing page immediately. You can later view your current balance as well as your history of payments and expenses on this page.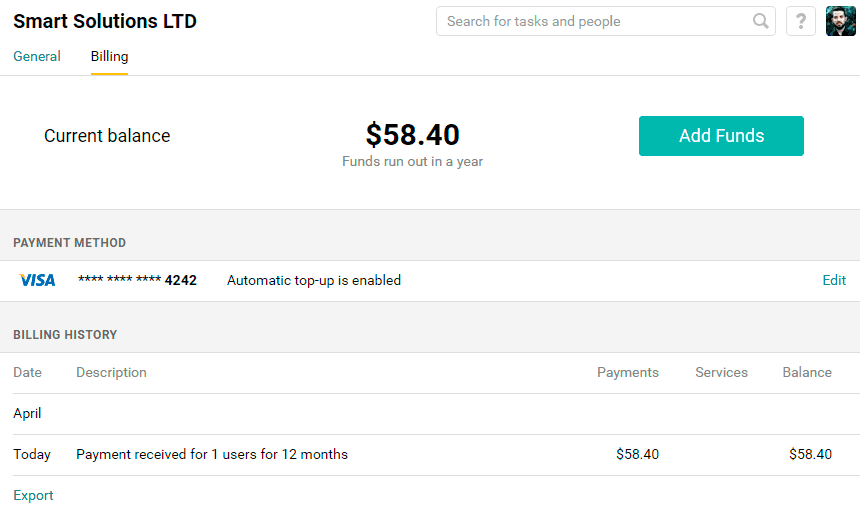 Attention! To pay the bill, you need the rights of an Accountant.
What happens to the company's account if it runs a negative balance?
If your balance drops below zero, you cannot create new tasks or leave comments. We will retain your data and you will have full access to your previously created tasks in read-only mode. When the account is paid, all Pyrus functions will unlock automatically.
We will send you a payment reminder two weeks before the due date, then again three days prior. If your last payment was more than six months ago, you'll get your first reminder one month before the date when you'd run a negative balance.
Set up automatic payment on the Payments page to avoid service interruptions. As soon as your balance is less than $10, we will automatically add $50 from the card linked to that account.
Do blocked users count toward my total number of users?
If an employee's account is blocked, Pyrus stops charging for that employee the next day.
Will I have to pay for Pyrus if I temporarily stop using it?
If a company is not active (its employees do not leave comments or change task statuses) for 7 days, daily charges will be suspended until activity is resumed.
Who can pay for Pyrus?
Pyrus can be paid for by the person who registered your company's account. To add funds to your account, select Billing in the settings menu.
How much data can I store on my Pyrus account?
The Premium rate provides 100 GB of disk space. The number of tasks is unlimited. You can check your remaining disk space in the Organization section.
We can make arrangements for additional space. Send us a request with your requirements.
Where can I check the number of free tasks remaining?
While you are on the Free Plan, you can check the number of tasks your team can create within this plan by selecting Billing in the Organization section. To switch to Premium, click Upgrade.
In the window that opens, indicate the number of employees your company has on Pyrus and select the payment period: three months, six months, or a year. Fill in the card details and confirm the payment.