Pyrus Sync is a small magical app that resides within the corporate network, seamlessly integrates with your installed software, provides on-the-fly data synchronization and makes backups. It works over secure HTTPS protocol to ensure ultimate protection for data transferred.
Download Pyrus Sync online on our website or get it from the extension section in Pyrus. You can install the one on any PC with administrator rights and set up your synchronization process in a few easy steps.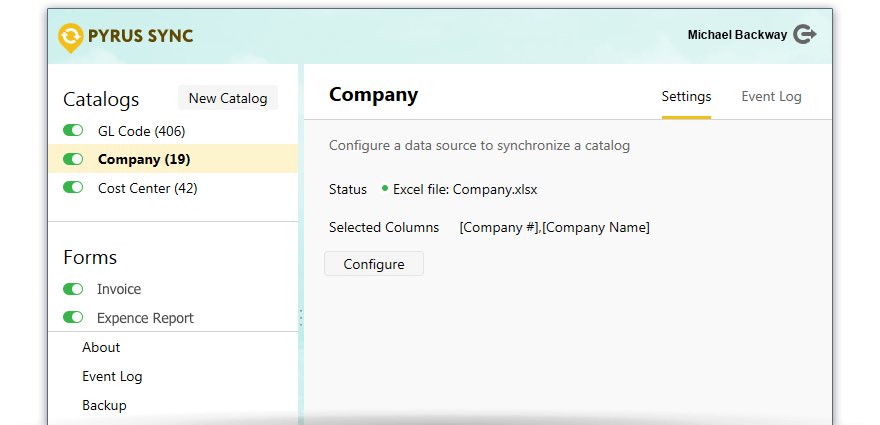 Scenarios

Catalog Synchronization
From now on all your catalog's data, stored in a database or any other online source will be continuously synchronized with Pyrus. You can use those catalogs as a field in any Pyrus form. Once you update a catalog in the external source, it will be propagated to Pyrus within minutes. Microsoft Excel files or Microsoft SQL Server databases can both work as a source for synchronization.

Auto-Fill Forms
The useful feature of Pyrus Sync is the ability to automatically fill forms using any data stored within your ERP system. Import related information using a built-in toolkit and our application will do the rest. Now you have extended your ERP system with a flexible workflow engine without heavy investment. You can use any locally stored Microsoft Excel file as a data source: Pyrus Sync automatically checks for updates and synchronizes them with Pyrus.

Pull Data
If you're willing to pull data from any external source into Pyrus tasks, our native app is also here to assist. Use the Pull Line Items function in the Forms section of Pyrus Sync and get data delivered directly to your given tasks. Any other web services, besides those mentioned earlier (Microsoft Excel files and MS SQL databases) can be used as your initial data source.

Register Export
Pyrus Sync is able to export your form's register automatically at a predefined time and day, to any local storage. You don't have to worry about manual export of your form's data – just create a schedule once and get it work for you whenever required.
Backup
Moreover, by using Pyrus Sync you can easily make backups of tasks, forms, and all attachments to your own storage. No strings attached, you have the local copy of all missioncritical business information and correspondence.
Pyrus Sync Interaction Scheme

System Requirements
Windows 7 SP1 x64 or x86
Windows 8 x64 or x86
Windows 8.1 x64 or x86
Windows 10 x64 or x86
Windows Server 2008 R2 SP1 x64
Windows Server 2012 x64
Windows Server 2012 R2 x64
Windows Server 2016
Windows Server 2019
With Microsoft.NET Framework 4.6.1 or later installed
If you wish to use an Excel file as your data source, make sure that you have MS Excel installed on the same computer you're launching Pyrus Sync.
We have plenty of pre-built integrations ready to work with Pyrus.