Sessions
Pyrus lets you monitor your account's activity to see when it was last used and what kind of device accessed it. You can find this information in Sessions, which is a list of your ongoing user sessions. Your account may have multiple sessions running at the same time if you're logged into several devices at once, or if you have logged in via an incognito window in the past 60 days.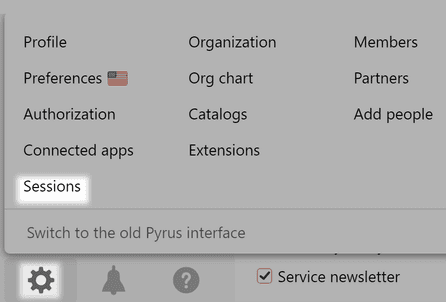 A session starts when you log into your account and ends when you log out. Another way to end a session is to click on Sessions and hit the "x" to the right of an open session. This is a good idea if you logged in on a shared computer and forgot to log out when you finished. Open Sessions on your personal device, find the session you initiated on the shared computer, and log out of it to prevent unauthorized access to your account.
If there are multiple sessions running, click Log out of all sessions. Only the current session will keep going.

You can easily find the session you need: Sessions shows the date, time, and location of account login, as well as the operating system and browser or app used. You can also hover over the location to see the device's IP address.